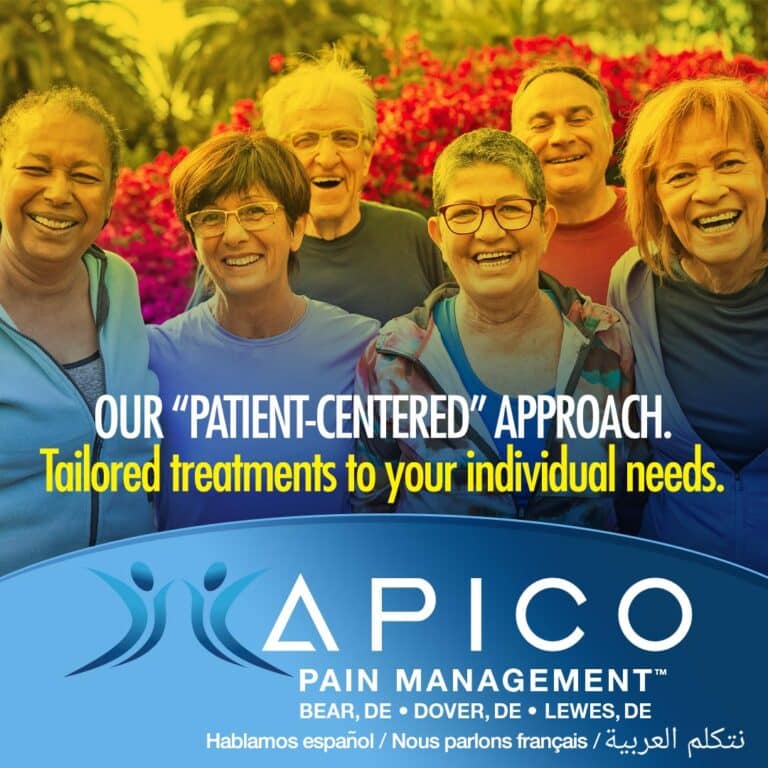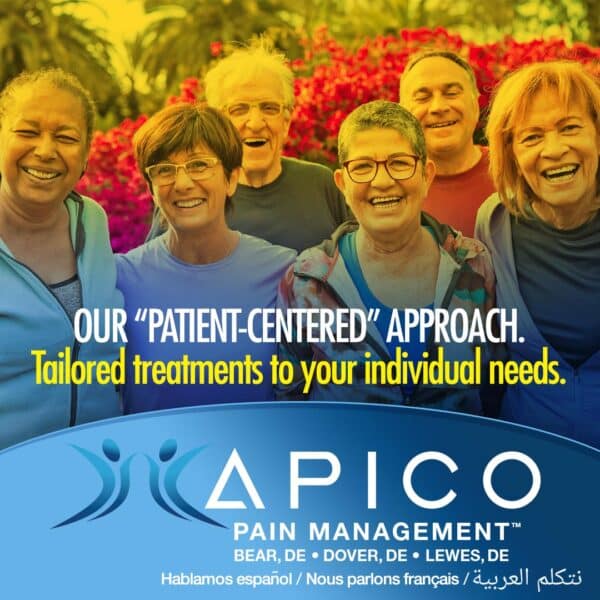 Summary
How individualized patient-centric care provides quality care and faster pain relief.
Individualized Patient-Centric Care.
In the realm of pain management, APICO Pain Management stands out as a beacon of hope for patients seeking relief from #ChronicPain. APICO Pain Management, led by Rany T. Abdallah, MD PhD MBA, a compassionate double board-certified pain management specialist, operates with a commitment to individualized patient-centric care. With offices in Bear, Dover, and Lewes, Delaware, APICO Pain Management is creating a new pain managment paradigm when it comes to pain management.
Understanding the Difference: What sets our practice apart is our unwavering dedication to treating each patient as a unique individual. Dr. Abdallah and his staff recognize that no two patients are alike, and pain can show up in countless ways. This understanding forms the cornerstone of our #MultimodalApproach.
Tailoring Treatment to You: At APICO Pain Management, cookie-cutter solutions simply don't cut it. Dr. Abdallah and our staff take the time to listen and truly understand your pain, its causes, and how it impacts your life. This personalized approach allows for the development of a treatment plan specifically crafted to meet your needs as a unique individual.
Comprehensive and Compassionate Care: Dr. Abdallah's vast expertise, backed by his #ExtensiveEducation and training, ensures that you receive the highest quality of care. Whether it's chronic back pain, migraines, or any other pain condition, he combines the latest treatments with genuine compassion to provide relief that goes beyond the physical.
Your Journey to Pain Relief Begins Here: If you're tired of living with chronic pain and seeking a pain management practice that prioritizes your well-being, APICO Pain Management is the answer. Dr. Rany T. Abdallah and his team are dedicated to helping you regain control of your life, one pain-free day at a time.
Don't let your pain hold you back any longer! Schedule an appointment with APICO Pain Management, and experience the transformative power of individualized patient-centric care. Your journey to pain relief starts here.
Call 855-932-7426 to schedule your consultation and take the first step towards a #PainFreeLife.
Leave a reply