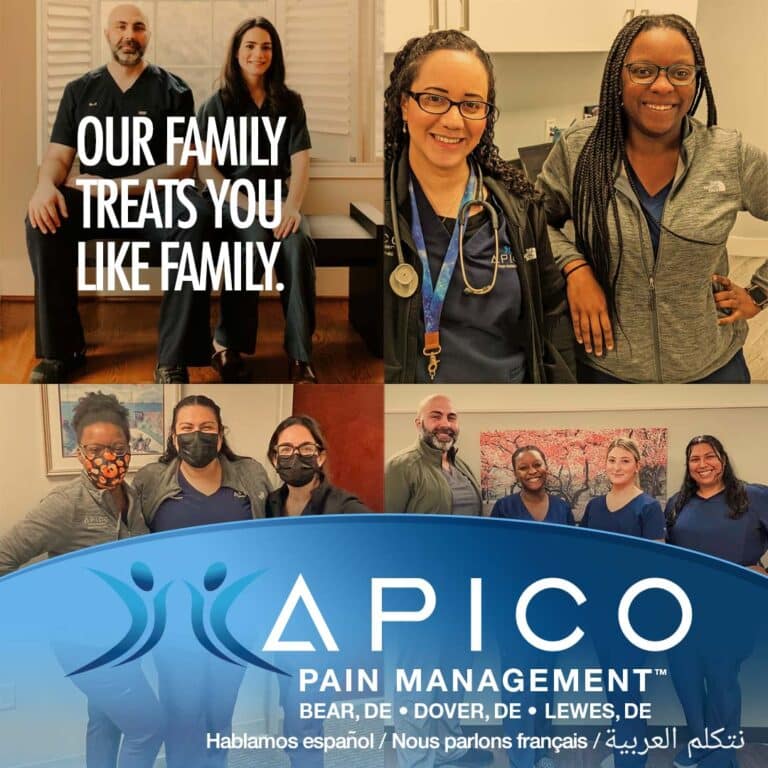 Summary
Here's why we feel like every patient is family.
Our family is like your family.
At APICO Pain Management, we proudly embrace the guiding value that "Our family treats you like family." Under the leadership of Dr. Rany T. Abdallah, MD PhD MBA and his dedicated staff, we extend a unique and advantage to our prospective patients that transcends the boundaries of conventional medical care.
Our approach centers on a profound sense of empathy, trust, and authentic care. These are qualities that hold paramount importance for those #SeekingRelief from the burdens of chronic pain. In the realm of pain management, where physical and emotional well-being are inextricably linked, this compassionate approach serves as the cornerstone of APICO Pain Management. Patients stepping into our care experience a warm and supportive environment where they can openly discuss their symptoms, concerns, and deepest fears. What sets us apart is the unwavering assurance that our medical team not only comprehends but #GenuinelyEmpathizes with their unique struggles.
The family-style culture we foster within our practice contributes to the creation of a robust doctor-patient relationship. This connection is the driving force behind our ability to design tailored treatment plans that are perfectly aligned with each patient's specific needs and preferences. The patient's experience is the foundation of our practice, and this ethos of family-style care ensures that we provide a level of emotional support that extends far beyond medical intervention.
Choosing APICO Pain Management means choosing to become a part of our extended medical family, where your pain management journey is not undertaken in isolation but alongside dedicated professional advocates who truly care about your well-being. It's this sense of security and the unwavering commitment to treating every patient like family that sets us apart. The patient's emotional and physical healing is at the heart of our practice.
Our mission: To empower every individual who walks through our doors to actively engage in their pain management journey with confidence and peace of mind.
In the end, APICO Pain Management is more than just a medical facility; it's a place of healing, compassion, and support, where each patient is embraced as a cherished member of our extended family.
Call for your appointment to meet with Dr. Abdallah today: 855-932-7426. We look forward to treating you like family.
Leave a reply